Stay Informed Of Lesson Updates With GACWebUpdates! (CLICK HERE)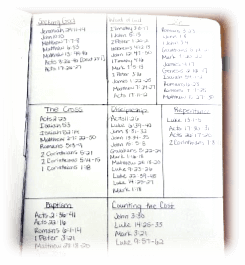 GAC "New Beginning Studies"
'How To Experience A New Beginning In Christ'
Ever wondered
what Christianity,
or being a Christian,
is really supposed to be about?
These studies are intended
to help us understand God's story,
how we can become a part of it,
and experience a New Beginning!
GAC "Firm Foundation Studies"
'How To Build Your Life On The Rock' - ( Weekly Follow-Up Studies For New Christians )
Deciding to become a Christian
is the most important decision
a person will ever make.
But a decision by itself
doesn't make much of a difference;
it must be followed-up with action!
These studies are intended
to help new Christians,
(and maybe some who aren't so new),
learn how to apply Jesus' teaching
to their everyday lives.